God has promised to take you step by step by step, not all at once, but step by step, and each step will be a miracle!

#godistoogood
At the end of October we started to know each other
25th December: as on my prayer list "I've asked God, that i want to meet "the one" that God's sending for me on Christmas"?☃️❄️. And God is just too good! Our first meeting was exactly on Christmas day. He was surprising me by coming along from Belgium to Indo ??~??
27th December: he asked me to have a serious relationship, and God lead me to answer with "I want to give it a try", #sorrysayang ?
2nd January: he actually proposed to me already, but God lead me to answer him to postpone it. To let it be a time for us to commit to each other, build our relationship and propose to me again by the time "I'm ready". #sorryagain ?
Today, 6th April: God lead him to ask me again, and now officially official, "I SAID YES! ?" and it's all only by His grace…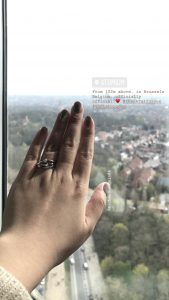 I just believe that every step that he made, and the steps that I responded to, are only by His wisdom and His Grace alone upon us. So thankful that he is more than that I've asked in my prayer list. He is a man of God, living God's words, living a life with a gentle heart. He is God's servant, and I've never asked for a doctor for my future husband…. but I got you, a doctor…
STEP BY STEP, AND EACH STEP WILL BE A MIRACLE! Indeed God is too good! TO HIM BE ALL THE GLORY! ♥️♥️♥️